Havurah of South Florida
Shabbaton
Weekend of Parshat Bereisheet,  5763
October 4-6, 2002
with
Dr. SHAI CHERRY
Vanderbilt University
<![if !vml]>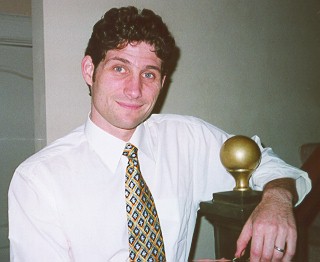 <![endif]>Shabbaton Program:
<![if !supportEmptyParas]> <![endif]>
All events are open and free to all current
Havurah members.  To assure adequate
seating, please RSVP at your earliest
convenience.
<![if !supportEmptyParas]> <![endif]>
Non-members:  RSVP is  required, space is limited.
A donation of  $18 per person for each Shabbaton
event you are attending would be greatly appreciated.
<![if !supportEmptyParas]> <![endif]>
Friday Evening:  Shared Shabbat, 7:30 pm, at the home of Ernestine Rubin, Coral Gables, RSVP 305-661-5838.  Kabbalat Shabbat  service led by Shai, followed by  vegetarian/dairy potluck Shabbat dinner.
    After dinner study session:  "Cain and Abel:  Sibling Rivalry and Latchkey Kids"
Shabbat Morning:  10 am, H SF Minyan, University of Miami Hillel,
RSVP 305-666-7349.   Shai will lead Pesukei d'Zimra and Torah study:
   "Nature Read in Truth and Awe:  Jewish Responses to Evolution"                       
Saturday Evening: Havdalah,  7:30 pm, at the home of Roger and Margrit Bernstein, Coconut Grove, RSVP 305-444-8733.    Sing and study with Shai:
   "Adam, Eve and Prometheus:  the First Havdalah in the Garden of Eden"
Sunday Morning: Family Bayt Midrash, 10 am, at the home of Ilene and Jonathan Aronson, Pinecrest. RSVP 305-665-8626.
     "The Rebellious Son:  A Mishna-Writing Workshop"
***
Shai Cherry is Mellon Asst. Professor of Jewish Thought at Vanderbilt University in Nashville, TN.  He also teaches for Nashville's Florence Melton Adult Mini-School. His areas of interest include religion and science, Jewish Ethics, and biblical interpretation.
 Before moving to Nashville, Shai was an active member of Minyan Shaleym in Brookline, MA. Shai received his BA (Magna cum Laude, Phi Beta Kappa) in Philosophy, Politics and Economics, from Claremont McKenna College, Claremont, CA.  During the 5 years he lived in Israel, he studied in Jerusalem at the Pardes Institute, in Hebrew University's graduate program and the Conservative Yeshiva.  As a doctoral student at Brandeis University, he was a teaching associate of Arthur Green, his advisor for his doctoral thesis on the topic "Creation, Evolution and Jewish Thought." Shai received the Hebrew College Me'ah Distinguished Faculty Award in 1999 and the Mordechai Wilensky Prize for Excellence in Jewish Family Education in 1998.
Upcoming HSF Shabbaton Weekends 2002-2003.  Mark your calendar now!
<![if !supportEmptyParas]> <![endif]>
Moshe Budmor - Nov. 8-10
A composer and retired professor of music, Moshe is Director of Lashir, the Jewish community chorus of Princeton, NJ.  Moshe has taught for many years at the National Havurah Summer Institute, where he is a beloved teacher of music courses that bring together participants with extensive musical background and those with very little.   His specialty is exploring the rhythmic and emotional properties of music used in davenning, and the relationship of the music to the words of prayer.  Moshe's Shabbat morning service will harmonize the voices of everyone present in dynamic song, and his lively hands-on musical program on Sunday morning will delight participants of all ages.
Reza Green and Moshe Silver – Dec. 20-22
Multi-talented teachers and musicians, Reza and Moshe facilitated their City Island (NY) shul's Shabbat morning program, for which Moshe taught Chumash and Pirkei Avot for many years before their recent move to Princeton, NJ.  They bring high-intensity kavanna to the davenning, and are also master teachers of Jewish text and tradition.  Moshe will offer a workshop on "Meditation with the Avot," a Torah-based approach to Zen meditation.  On Sunday,  Moshe will present a  program of storytelling and  drumming for the Family Bayt Midrash, while Reza, who will layn for the minyan on Shabbat morning,  conducts a workshop for experienced Havurah Torah-layners.
Sarah Braun and Shai Gluskin – Jan. 17-19
Sarah and Shai are both active members of the Germantown Jewish  Centre in Philadelphia, where they
lead davenning, layn, and offer divrei torah.  Sarah  is a psychiatrist and a Jungian analyst, whose  interests include the interrelationships among art, myth, dreams, religion and spirituality.  Shai, a graduate of the Reconstructionist Rabbinical College, is the  Director of Education of the Jewish Reconstructionist Federation and  an adjunct member of the RRC  faculty.  His interests include parenting as a  spiritual discipline as well as Israeli popular culture and poetry.   On Sunday morning Shai will lead adults and kids in TorahQuest, an interactive Torah study experience.
Diane J. Klein –  Jan. 31-Feb. 2.  "Jewish Law School Weekend."
Diane J. Klein teaches at the Thurgood Marshall School of Law in Houston, TX.  She received her JD from  UCLA's School of Law in 1997, and is currently a PhD candidate in Philosophy at UC Berkeley. She also teaches Jewish Adult Education courses on comparative Jewish, Israeli, and American law and on Jewish mysticism. This Shabbaton, timed to coincide with  Parshat Mishpatim, will  provide an introduction to traditional Jewish (as distinct from Israeli) approaches to contemporary legal issues (not matters of Jewish religious law or observance).  Its focus will be on rabbinic legal reasoning and substantive principles of law drawn from halakhah.    Sunday's family program will explore classical legal dilemmas, combining the "Socratic method" used in  law school classrooms with a "problem method" appropriate for mixed-age groups.
More Shabbaton weekends scheduled for the Spring!    Details will be available soon.
Marsha B. Cohen, Program Chair 
<![if !supportEmptyParas]> <![endif]>
These  Shabbatonim are made possible by the members of Havurah of South Florida.
We invite and welcome your participation and support!
To:  Havurah of South Florida    7800 Red Road, Suite 215E     South Miami, FL 33143   Phone 305-666-7349
------------------------------------------------------------------------------------------------------------------------------
Name _________________________________________ E-Mail _________________________
Address______________________________ City _______________________ Zip___________
Phone:        Home_________________ Business ________________ Cellular___________________
Best time to call __________________________________________
Please check all that apply:
_______  I want to attend the Shai Cherry Shabbaton.  I'm not currently a Havurah member, so I am enclosing a contribution of  $______ to help Havurah of South Florida continue to bring quality Jewish programming to our community.   (Suggested donation: $18 per person per event.)   
_______ I want to join Havurah, so that I can support, be notified of, and  participate as a member in all HSF Shabbatonim and other programs.  (Annual dues:  $300 per person, $600 couple/family).
_______ I would like more information about membership in the Havurah.  Please contact me.
_______ (Member or non-member) I would like to sponsor or co-sponsor a Havurah of South Florida Shabbaton, in honor or in memory of a loved one or a special event.  Please contact me.
_______ (Member or non-member)  I would like to host a future HSF Shabbaton Shared Shabbat or Havdalah at my home, which can accommodate up to _____ (approximate number) people.
<![if !supportEmptyParas]> <![endif]>